Boots form a very versatile accessory, come in many varied styles and heights. If you know how to choose and pair them with an outfit it can complement your personality perfectly.
Here are the best ways to wear boots in a manner that they are flattering to your body.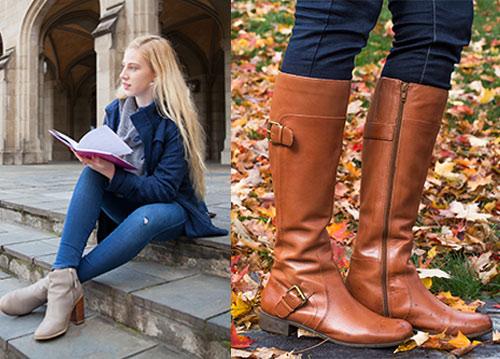 1. Choose Boots According to your Calves: If one has wide calves, then go for boots that have slightly stretchy fabric, are with elastic panels and have adjustable closures like laces or buckles. These will allow more room to leg. Again to make your legs appear lean and long either wear tights in the same colour as them or find a boot with an angled top. On the contrary, if you have skinny calves choose boots with three-dimensional details like ruffles, straps etc. Also, wear tights of contracting shade to give body to the leg.
2. Chelsea Boots: Every stylish man considers Chelsea boot as a wardrobe staple. Dating back to Victorian-era these sophisticated boots have remained favourite of men of all ages. If you want to know how to wear Chelsea boots men, these boots are comfortable, fashionable and versatile and come right from classic leather looks to cool suede options. The leather ones can be paired for formal occasions as it adds an extra touch of sophistication especially the black ones. The suede Chelsea boots
should be paired with casual and smart casuals.
3. Wear boots According to Weather: Not all boots can be worn in all weather and climate. If you want to wear boots in the rainy season then invest in a good pair of rubber boots. For cold weather, moccasin, shearling etc. are a preferred choice. If there is snow around then the moon boots or mukluks will help you to repel moisture and keep your feet warm.
4. Wear Boots In Accordance with your Outfit: Ankle or knee-high boots look good when you tuck your pants or jeans into it. Make sure to wear narrow fit pants to get this look or else go for slouch boots, which have a better room. If you want to pair boots with skirts or dresses you need to be mindful of boot height. Knee-high boots pair well with longer skirts while a thigh-high looks great on minis. When it comes to boot colours the neutral shades i.e. black, brown, or grey can go with any outfit. A quick rule is to match the boot colour with the belt colour in case you are wearing one. This rule is applicable for both the sexes.